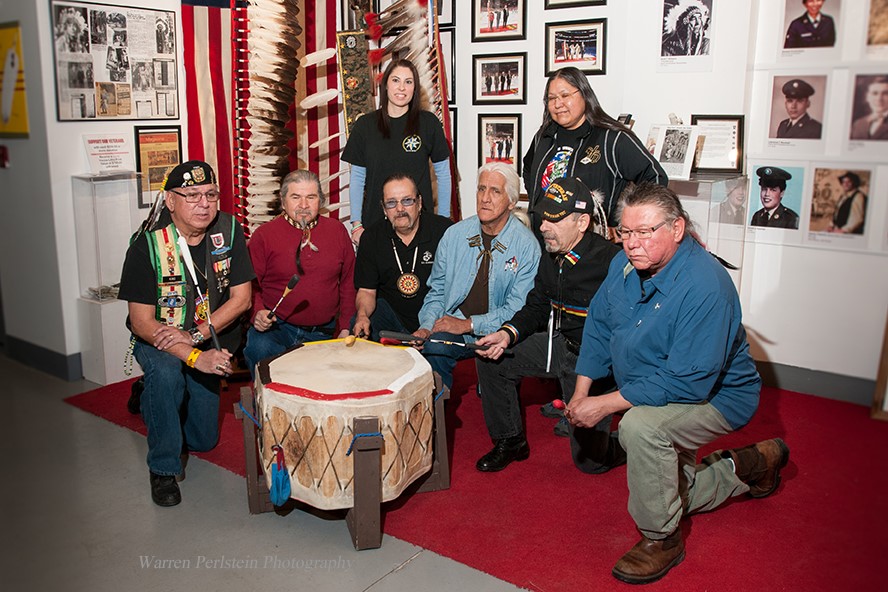 Mission: Trickster Cultural Center increases the visibility and impact of contemporary cultural arts and education nationally through all art media, music, veterans, fatherhood, and social justice issues to advance these programs.
Vision statement: To be an authentic first voice of Native American and cultural arts.
Contact Information:
Address:
190 S Roselle Road
Schaumburg, IL 60193
Phone: (847) 301-2090
E-mail: joep@tricksterculturalcenter.org
Website: https://www.tricksterculturalcenter.org/ 
Organizational Type(s):501C3 in Good standing in Illinois
Charitable organization
Educational
The Name is the Story
The trickster is a figure meant to create and provoke thought which exists within the stories of many cultures throughout the world. The name "Trickster" carries profound meaning. In Native American culture, a trickster is a spiritual and cultural educator. The trickster of the past taught life principles, and at times worked through levity and jokes. Today, the trickster wishes to teach us another truth about the impact that Native and non-Native art have in shaping our mutual cultures. The Trickster Cultural Center honors the past by sharing the present-day lives of Native people while projecting ideals for future generations.
The Trickster Cultural Center derives its name from this figure because the Native American community welcomes the idea of thought, cultural sharing, and interactions which enhance our understanding of modern Native society. In the stories of the Plains tribes, the trickster often appears as a coyote, which is why its image is represented on the Center's logo.
At Trickster's location in Schaumburg, Illinois, all visitors are invited to celebrate the Native voice found in this living culture through the lenses of contemporary artists, our veterans, and all community members.
The Trickster Cultural Center Uses Art to Tell  a Cultural Story
The Trickster Cultural Center is a registered nonprofit 501c3 Native American and community arts center that also serves Native American veterans and their needs. The Center features contemporary Native American art (post-1960's) and augments its multicultural exhibits with featured speakers, panel discussions, school tours, and educator workshops. Come to Trickster to learn about Native American culture, Native peoples and their contributions to the U.S. military, view veteran's artwork, experience multicultural exhibits, and browse unique items in the gift shop.
Trickster Cultural Center was established on March 5th, 2005 to create a unique contemporary view of Native arts, cultural education, and awareness. Today the Trickster Cultural Center is the only Native American owned and operated arts institution in the state of Illinois.
Why a contemporary focus?
Native American people, (also known as American Indians), have been placed in a perpetual state of nostalgia. The Trickster Cultural Center focuses on contemporary art to go beyond the romantic iconography seen in movies and TV, and instead address the state of Native America today as a living, breathing culture.
The Center's programs raise public awareness and advance ideals of tolerance and diversity by combating stereotypes and deconstructing predetermined imagery that has long defined Native Americans with one generalized cultural aesthetic. Native people are not all the same; their lives and how they choose to practice their culture is shaped by their individual tribes and whether they live on reservations or off. The Native American community is strong and diverse, which makes it necessary to provide a platform for cultural exchange as we continue to celebrate Native people in Illinois.
Thanks for listening to the Trickster Cultural Center story
The Trickster Cultural Center hopes that each visitor has experienced the opportunity to connect with Native American culture in a friendly environment and that we have provided you with an opportunity to explore, engage, and educate through our multicultural programming and exhibits. Thank you for your openness in coming. Hopefully, we have shared contemporary Native American culture with you in a meaningful way, surprised you, and left you with the feeling that you have learned something new. Above all, we hope that we have demonstrated that Native American culture is a critical part of the multicultural blend of artistic traditions central to our American heritage.
Donations:
https://www.tricksterculturalcenter.org/donate
Mii gwech (Thank you in Ojibwe)