Featured Artist of the Month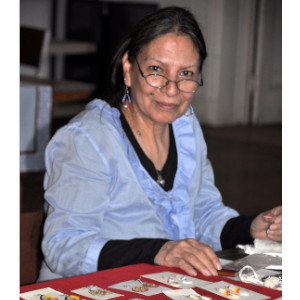 Norma Robertson
Han. Norma Robertson emaciyapi. I'm an enrolled member of the Sisseton-Wahpeton Oyate, Lake Traverse Reservation, Sisseton, South Dakota. Beading has been a gift to me from my Kunsi, which I have passed on to my daughters and others. As a teenager I became interested in learning how to bead and my Kunsi Ella Wanna taught be some basic techniques. She also told me "You learn to do this and you'll never go hungry." Today, I've beaded amulets for all my grandchildren that hold their umbilical cord, and then their first pair of moccasins.
Native Artist Directory
The Chicagoland Native American Artists Project will enhance, promote, and nurture the creative and economic development of Native artists.This online directory highlights the diverse arts and crafts of the local Native community and offers opportunities to artists for greater exposure and recognition. If you are a Native artist and would like to join this list, please fill out the CAICC Artists Directory Application Form.
Artists by Specialty