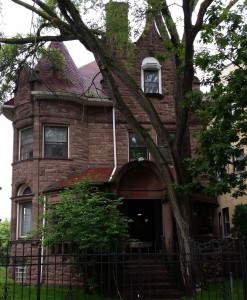 Mission: To serve Chicago's American Indian community with spiritual, counseling and supportive services.
Contact Information:
Address:
4512 N Sheridan Rd
Chicago, IL 60640
Phone: 773-784-1050
Fax: 773-784-1254
Organization Type:
Spiritual Services
Org Docs:
MAP
St. Augustine's Programs
Founded in 1961, Saint Augustine's Center has served Chicago's American Indian community with spiritual, counseling and supportive services for over half a century. Since 2006 we have been providing daily meals for the homeless of all races as well.
We continue our half a century tradition of providing financial assistance to Chicago's American Indian community, and elders in reservation communities as well. This direct financial support totaled more than $60,000 in 2013. At this time in 2014, $35,150 has been provided to Native families and individuals.
Holy Mass is offered daily. Following Mass a hot breakfast is served the homeless. In 2013, eleven thousand (11,000) meals were served. Thus far in 2014, more than nine thousand (9,000) have been served.
In additional, our Food Pantry has provided fresh meat and groceries for 359 families and 715 individuals, American Indians and non-Native persons as well.
Our A.A. Support Group meets weekly. It is coordinated by Norma Robertson, Sisseton Dakota, in partnership with John Meissner, an accredited alcohol Counselor.
Saint Augustine's Center is a Trustee in erecting the new Brinton Museum in Big Horn, Wyoming, immediately adjacent to the Northern Cheyenne and Crow reservations. Lakota country is six hours distant. The museum is scheduled to open in June 2015.
We have gifted a portion of our Foundation's collection of Plains Indian art to the Brinton Museum with the stipulation the exhibition is to stress the sacral nature of American Indian art. It is our hope that by doing so Saint Augustine's, an urban Indian Center, will aid in strengthening both reservation and urban Native people in veneration for their respective tribal cultures and the sacredness of same.
2014 Annual Budget
$161,000.00
Number of Staff
Full time: 5
Part-time: 2