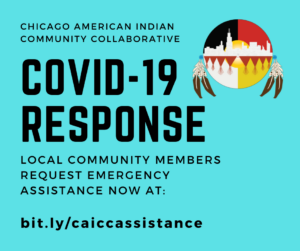 COVID-19 EMERGENCY RESPONSE GRANT
-The application is now closed-
CAICC stands in solidarity with Indigenous community members who are affected by the COVID-19 pandemic. The CAICC COVID-19 Emergency Response Grant is designed to provide immediate relief to individuals and families who are in need of essential support during this pandemic. This grant is available to support services and relief efforts such as:
Medical supplies

Food and/or food delivery

Youth and /or Elder care

Educational Access

Technology Access (i.e. internet, phone)

Shelter and Housing

Economic Relief

Social – Emotional Support

Cultural, Ceremonial, Spirit-Aligned Support
Eligibility Requirements:
Applicant identifies with a Native American Federally Recognized Tribe or First Nations reserve

 

Applicant has been an engaged member with a CAICC member organization or

the Chicago

Native community

 

Applicant's household income is less than $65,000 annuall

y

 
The application is confidential and does not take long to complete. Grant review and funding notifications will occur on a weekly basis through the end of December 2020. As we continue to raise funds, we will distribute resources accordingly. Submission of an application does not guarantee funding.
-The application is now closed-
FREQUENTLY ASKED QUESTIONS (FAQs):
Who can apply for these funds?

Anyone who meets eligibility requirements.
How do I apply for funds?

The application is closed at this time.
Can I have someone else submit an application on my behalf?

Yes. If you are not able to submit an application yourself, you can have someone else submit the application on your behalf. That person will have to identify themselves by providing their name and contact info. 
What types of expenses can this award cover?

This award is intended to help with household expenses that are in immediate need of payment and cannot be deferred or negotiated. These may include medical, food, youth and elder, housing, and cultural assistance, or other immediate expenses. 
Where do the funds come from?

The CAICC COVID-19 Emergency Response Grant is supported by a variety of sponsors including the Spencer Foundation, Greater Chicago Food Depository, United Philanthropy Forum's Momentum Fund, and individual donors.
How will funds be distributed?

If approved, you will be contacted directly to coordinate the receipt of an e-check, physical check and/or a food card.
What if I still have a job part-time or full-time, but it is not enough?

These funds are available for anyone who's income has been impacted by COVID-19 and meets the eligibility requirements listed above.
What is the deadline for submitting supporting documents?

If you have any supporting documents (bills, pay stubs, notices, etc.) please provide it no later than 14 days after submitting your application. There is limited funding is available and the deadline is firm. If you are unable to provide your documentation within the 14-day timeframe, please resubmit an application.
How long will it take for funds to be distributed?

If your application is approved, we plan to distribute funds within 7-10 business days
I am non-Native or not enrolled, am I still eligible to apply?

Our funds are focused on the Native American Indian Chicago Area Community, however, proof of Tribal enrollment is not required.
I am not living in the Chicago area, am I still eligible to apply?

We will be reviewing applications from applicants that reside in Chicago and Suburban areas
If I have additional questions, who should I contact?

You can contact a CAICC representative at CAICC.AOC@gmail.com