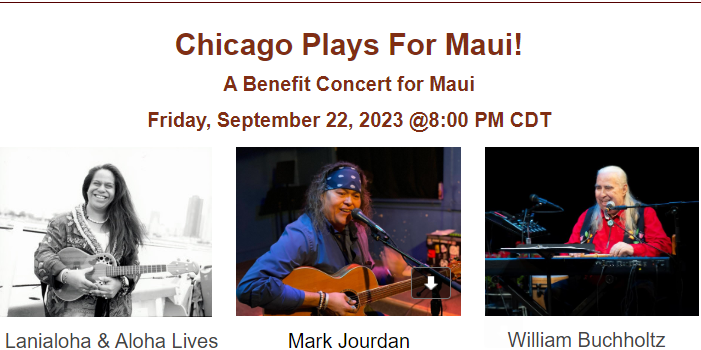 Chicago Plays for Maui!
Chicago Plays For Maui!
A Benefit Concert for Maui
Friday, September 22, 2023 @8:00 PM CDT
Hosted by the Old Town School of Music, Lanialoha & Aloha Lives, Mark Jourdan, William Buchholtz, and more!
Ticket proceeds will go to the 
Pray for Maui 
 fund organized by Dianne Antonio through Go Fund Me. Dianne and her husband Nate own Da Local Boy LLC, one of Chicagoland's new additions to our local island eateries. Raised in Lahaina, Maui, Dianne, Nate, and their son Sky, like many others, relocated to the Midwest. Our community watched and supported them as they worked hard to save and bring their food truck to Chicago. Many of us had the pleasure of meeting Dianne's Father, Mother, and her younger sister, who helps with the `ohana business, and who visited often in support. Da Local Boy LLC will continue to offer its proceeds, along with Aloha Eats, Aloha Wagon, and AO Hawaiian Hideout, who are all running specials to contribute to the GoFundMe Page.
Friday, September 22, 2023 @8:00 PM CDT
Old Town School of Music
4544 N Lincoln Ave
$25 General Public; $23 Members
Recent Comments
No comments to show.